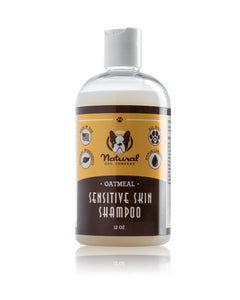 Sensitive Skin Oatmeal Liquid Shampoo 12 oz
A Thorough Clean for Sensitive Skin!
Looking to keep your pup clean without irritating their skin? This shampoo is as gentle as it gets! Sensitive Skin Oatmeal Shampoo's hypoallergenic formula is mild enough for the most sensitive of skin without sacrificing a clean pup. Oatmeal and Aloe Vera star in this extra-gentle shampoo made for puppies and sensitive-skin dogs of all breeds, ages, and sizes!
Natural Dog Company's 12 oz. Sensitive Skin Oatmeal Shampoo is the perfect way to clean and heal all pups, especially if they have naturally sensitive skin.
The ingredients are blended with only the highest-quality, essential nourishing nutrients. Our liquid shampoo gets your pup sparkling clean and is safe for all breeds, ages, and sizes.
Key Components:

- Colloidal Oatmeal | Relieves irritation and inflammation; gentle emollient that keeps skin hydrated and soft
- Aloe Vera | Reduces skin conditions like dermatitis because of its rich antioxidant properties
- Chamomile Extract | Natural anti-inflammatory that gently soothes sensitive skin
- Manuka Honey | Anti-inflammatory and antioxidant-rich, Manuka honey nourishes the skin & coat while balancing the skin's sensitive pH
Full Ingredient List: Aqua (Deionized Water), Aloe Vera Juice Gel, Cocamidopropyl Betaine, Lauramine Oxide, Sodium C14-16 Olefin Sulfonate, Glycerin, Coconut Oil, Colloidal Oatmeal, Chamomile Extract, Argan Oil, Mango Butter, Marigold Extract, Green Tea Extract, Vitamin E, Seaweed Extract, Manuka Honey, Lavender Oil, Citric Acid, Phenoxyethanol, Ethylhexylglycerin

---
We Also Recommend