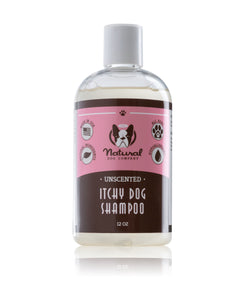 Itchy Dog Liquid Shampoo 12 oz
Natural Cleansing Relief for Recurring Dog Skin Irritations!
Does your canine companion deal with continuous skin issues? Allergies, hot spots, or redness? Itchy Dog Shampoo's hypoallergenic formula is perfect for washing away surface-level irritants while providing soothing relief for your pup's itchy skin. You can have your dog feeling as good as they look with Itchy Dog Shampoo!
This Itchy Dog Shampoo is free of sulfates, parabens, alcohol, and toxins. Nothing but 100% natural, pet-safe ingredients that work together to give your pup a clean coat and healthy, healed skin. Itchy Pup Shampoo is ideal for adult dogs with recurring or severe skin issues, but is suitable and safe for all dog breeds, ages, and sizes!
Natural Dog Company's 12 oz. Itchy Dog Shampoo is the perfect way to clean and heal all pups, especially if they experience itchy skin and redness caused by allergens, bug bites, and other irritants.
KEY INGREDIENTS
LAVENDER OIL - 

Antifungal and anti-inflammatory properties soothe itchy, dry skin while calming and soothing

ALOE VERA - 

Aids in healing burns, abrasions, cuts, and irritations while deeply moisturizing skin

JOJOBA OIL - 

An anti-inflammatory that relieves chafed, chapped skin & reduces redness caused by dry skin
---
We Also Recommend