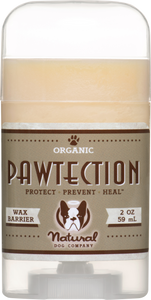 PawTection 2 oz Stick
Protect your pup's sensitive paws!
Nourish and protect your pup's paw with PawTection. Its natural wax blend creates a protective and nourishing barrier to defend against cuts, burns, and scratchy paws. Apply Pawtection before any outdoor activity to defend against harsh temperatures, rough terrains, and potential paw pad injuries!
PawTection defends paws against damage from:
Hot surfaces such as pavement, gravel, sand, concrete, decks, etc.
Harsh elements like ice, salt, snow, rough terrain, & extreme temperatures
Reduces the effect of contact with allergens including grass, pollen, & mold
The ingredients are organic, plant-based, and never compromised. With the highest quality and natural healing properties, these balms are effective, safe, and will leave your pup living its best life! 
Key ingredients in PawTection include:
Mango Butter | Rich in Vitamins A, C, & E to help combat free radicals that cause dryness & cracking in paws
Rice Bran Oil | Natural antioxidant rich in minerals & vitamins to deeply penetrate skin's layer to nourish deep
Lavender Essential Oil | Soothes discomfort, heals & fights against germs & bacteria & naturally eases anxiety & stress
Rosemary Extract | All-natural preservative & antioxidant with potent anti-inflammatory properties
Remaining essential ingredients: Sunflower oil, Carnauba wax, Sunflower Wax, Candelilla Wax, Natural Vitamin E, Benzoin Resin, Stearic Acid
---
We Also Recommend