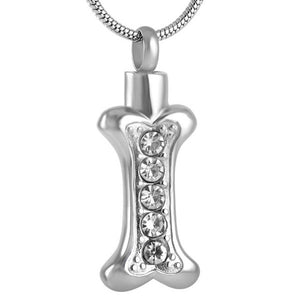 Dog Bone Stainless Steel Pet Cremation Necklace
The Dog Bone cremation pendant is a polished stainless steel necklace in the shape of a traditional dog bone. The front of the charm features 5 bright crystals down the front. Perfect for memorializing your dog and bringing them with you everywhere you go. The ring at the top attaches to the screw which seals the storage area inside of the charm.
Stainless Steel

Clear crystals

Machined screw

Sealing O-ring

Small storage space

Complimentary 21" 'snake' style chain included (pictured)

Color: Silver

Size: 3/4" W x 1-1/4" H
The perfect item to keep your loved one with you and near your heart every day. Our Memorial Pendants are made of stainless steel and are individually made by hand, by master jewelers. This keepsake pendant has a small, machined screw which seals a small storage area inside of the pendant. This can be used to store a small amount of cremation ashes (cremains) or a piece of hair. Anything you might want to use to remember your loved one. This dog bone shaped pendant features 5 small gems set into the front.
---
We Also Recommend